1930s :: Airhostess of Tata Airline
1949 :: Aircraft of Bharat Airways (The Birla Airlline ) at Willingdon Airport, New Delhi, on July 4, 1949
1967 ::Indira Gandhi after treatment of her nose broken by a stone thrower in Orissa
1948 :: Razakar army of Nizam , Hyderabad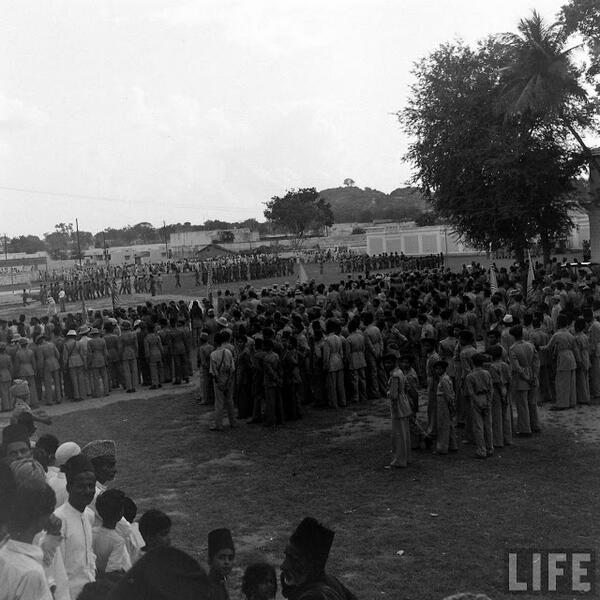 Jan 1952 :: Election Scenes in Delhi .' Vote for Hut' a symbol for Smt. Sucheta Kripalani
1985 : Rajiv Gandhi going round an exhibition at Kathniwada in Jhabua district
March 1962 :: First Lady Jackie Kennedy greeted by Gov. Gurmukh Nihal Singh at Jaipur Airport
1932 :: Sardar Patel with Mahatma Gandhi in plague stricken villages in Borsad (Gujarat)
1954 :: Scene in a Goa village during liberation movement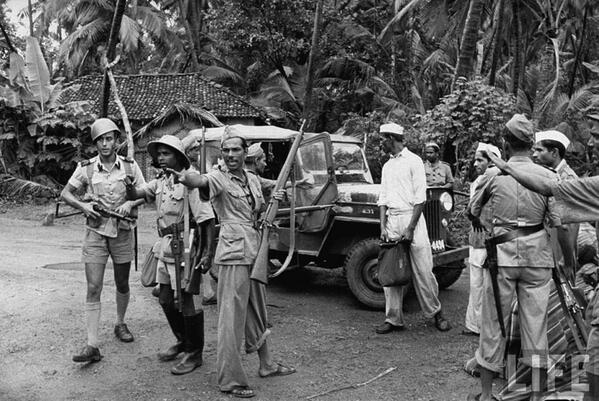 1958 :: Jawaharlal Nehru and Indira Gandhi at border village of Tibet and Bhutan
1950s :: Herd of cattle crossing the meadows of Gulmarg ,Kashmir
1911:: View of Delhi Durbar during George V's Coronation tour of India
1959 :: Che Guevara visits a Village in India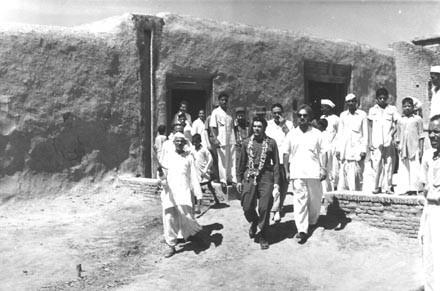 1903: GT Road of Amritsar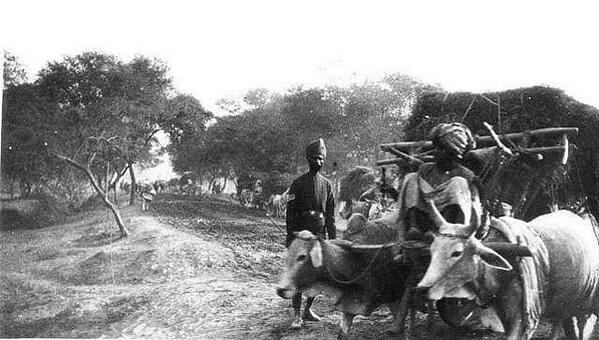 1950s :: Hoardings promoting latest bollywood films in New Delhi
1962 :: US President John F. Kennedy Meets with Indira Gandhi
1973 :: PM Indira Gandhi meeting with IPS Officers including Smt. Kiran Bedi
1959 :: Che Guevara records an interview on All India Radio (AIR)
1959 :: Nehru smiles as Che Guevara gifts him a box of Cuban cigars
1970 :: Sanjay Gandhi in a workshop developing a prototype of low cost car.
1981 :: Jarnail Singh Bhindranwale in Golden Temple
1954 :: TATA in tie up with Daimler-Benz launches its first Mercedes Benz diesel truck
1991 :: JRD with Ratan Tata after appointing Ratan as his successor .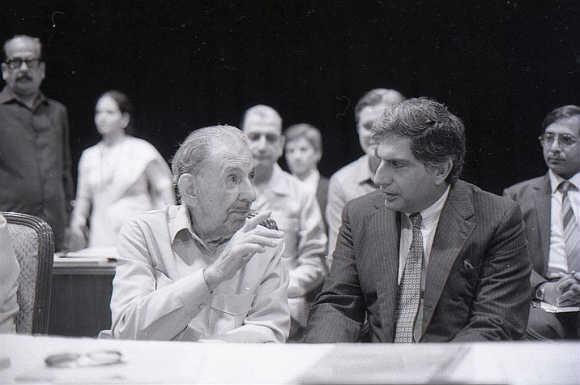 1985 :: Mani shankar Aiyyar with PM Rajiv Gandhi
1985:: Rajiv Gandhi receives 'Beyond War Award' though a ceremony linked by live global teleconference in New Delhi
1948 :: Pandit Jawaharlal Nehru at the Kurukshetra Refugee Camp
Feb 17 1979 :: Atal Bihari Vajpayee at Ling Yin Temple in Hangzhou china
1970s :: M. G. Ramachandran addressing a rally
December 12, 1971 :: Bangladesh citizens welcome Indian army tanks in the streets of Jessore
1958 :: Milkha singh at Tokyo Asian Games
1930s :: Subhash chandra Bose with Mahatma Gandhi
1970s :: Shri Ram Nath Goenka (Owner of Indian Express ) with Lok Nayak Shri Jay prakash Narayan
1977 : Results of Lok sabha polls (after emergency) being displayed in Delhi
1960 :: TIFRAC , India's first indigenous computer developed at Tata Institute of Fundamental Research commissioned
1974 :: India's first underground nuclear test, carried out on at Pokhran, Rajasthan
1962 :: Trucks carrying indian soldiers to border during the india – china war
June 23 1980 :: Sanjay Gandhi's dead body kept for the public to pay last respects
1980s :: Subramanian Swamy with Rajiv Gandhi
October 1947 :: Indian Dakota at Srinagar airfield to airlift civilian refugees for the return flight
1983 :: Atal Bihari Vajpayee with Egyptian leader Hosni Mubarak.
11 August 1947 :: Mohammad Ali Jinnah signing as first Governor General of the newly created Nation of Pakistan
December 1946 :: Muhammad Ali Jinnah with Pandit Nehru in London
1946 :: A view of Brigade Road , Bangalore
December 24, 1987 :: Jayalalithaa seen standing near the body of MGR as it lay in in Madra
December 16, 1971 :: General A.A.K. Niazi of Pakistan Army signing the surrender documents in Dacca
December 18 1961: Portuguese men in Lourenço Marques (Maputo ) reading a public placard of annexation of Goa by India
October 3, 1975 :: A massive crowd in Chennai to pay its last respects to departed Congress leader K. Kamaraj
1963 :: Aircraft owned by The Hindu Newspaper to deliver copies of the paper to various destinations in Karnataka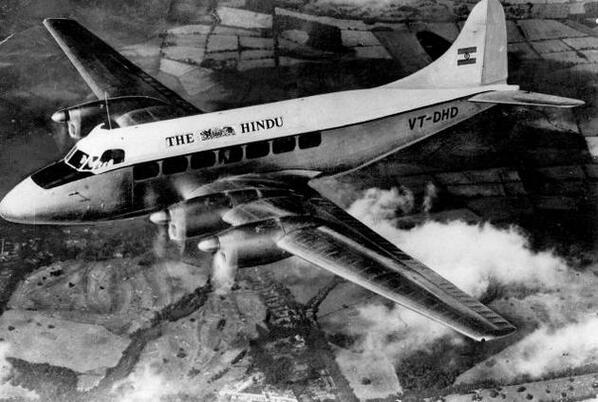 1930s :: Rabindra Nath Tagore with Subhash Chandra Bose
November 1 1962 ::Smt. Indira Gandhi donates last bit of her jewellery to the National Defence Fund during china war
November 14, 1983 :: Indians in South Africa during a demonstration against Apartheid outside Durban city Hal
1947 :: Rows of tents for refugees at a refugee camp
September 22,1931:: Mahtma Gandhi meets Charlie Chaplin in Canning Town, London. Sarojini Naidu is standing on right
1931 :: Crowd gathers to witness the arrival of Mahatma Gandhi in Canning Town, East London
1941 : Netaji Subhash Chandra Bose and Field Marshall Erwin Rommel in Germany
11Feb 1948:John Mathai,Minister Railways,inspecting 'Ashthi Special' train carrying Mahatma Gandhi ashes to Allahabad
1931:: Mahatma Gandhi during the Second Round Table Conference at London, England
1949 :: Mayo College, Ajmer, which was opened by Lord Northbrook in 1875 for the education of young Rajput Princes
15 August 1947 :: Delhi celebrates the Independence Day.One of the bazaar of Delhi decorated with National Flags
Nov 1953 :: A shopping centre in Chandigarh – new capital of Punjab
August 15,1947 :: crowds assembled before the main gate of Council Chamber, when Constituent Assembly met, New Delhi
1948 ::Sikhs carrying portraits of Gandhi & Nehru to welcome india's High commissioner in British columbia (canada)
September, 1957 :: Viscount aircraft of Indian Airlines before take off
1951:: Kashmiri Gate Shopping centre , Delhi
1958 :: Durgapur Steel Project , foundation work near Blast Furnace in progress
Oct 1949 ::Elephant named 'Indira' sent by Pandit Jawaharlal Nehru as a gift to children of Japan arrives in Tokyo
Aug 1949:Namadhari Sangat expressed gratitude to C.Rajagopalachari for accommodating number of refugees in Gov.House
Nov 1949 :: Pandit Jawaharlal Nehru with Prof.Albert Einstein at the latter's residence during tour of USA
October, 1957 :: Jawaharlal Nehru addressing a mammoth gathering at the Peace Memorial Park at Hiroshima Japan
May 1948 :: Jawaharlal Nehru at Joint parade of National Militia,Peace Brigade, and Women Defence Corps in Srinagar
April 1948 :: Acharya Vinoba Bhave and others at the Kurukshetra Refugees Camp
1947 :: Chandni Chowk ,New Delhi on Independence Day
(We will keep updating this collection from time to time as we unearth more rarest of the rare pictures that tell you a story, a story of India)